If you're away from home or don't have the time to cook, our shelf stable glatt kosher meals are the perfect solution to provide great taste and excellent nutrition.
We prepare each delicious shelf stable kosher meal using only the highest quality, wholesome ingredients and care. Sink your teeth into our succulent well-trimmed beef and tender chicken breast, in our Beef Stew or Chicken & Noodles. Or savor the robust Italian flavors of our Pasta with Garden Vegetables (pareve) or Cheese Tortellini (dairy). Just a few of our many tasty meals!
We ship directly to institutions, the US State Department, governments, disaster relief agencies, distributors, retailers, and wherever healthy shelf stable kosher meals are needed.
Our nutritional experts are available to assist with special menu plans and to offer useful solutions to meet religious meal needs.
MOM shelf stable meals are already fully cooked, so they are quick and easy for you to prepare and serve. Keep some in the pantry for whenever you need a fast, healthy meal and stock a supply in your emergency preparedness kit in the event of a natural disaster.

Whether you're exploring the great outdoors, serving in the armed forces, prepping for an emergency, or just don't have the time to prepare a meal, My Own Meal ® fully-cooked, shelf stable meals provide the tasty nutrition to power you through the day.
My Own Meal® Kosher MREs (Meals Ready to Eat)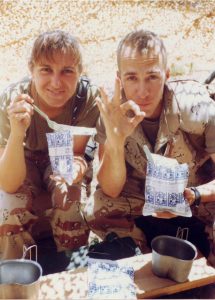 MREs or Meals Ready to Eat, are commonly used by the military, emergency responders and worldwide disaster relief agencies. Each kosher MRE includes a tempting meat, dairy or pareve My Own Meal® food pouch paired with an assortment of brand-name preferred food items such as granola bars, dried fruit and cereal.
Every three-course shelf stable kosher MRE has 1200 calories of energy-packed nutrition, designed with adverse conditions in mind … Each individual meal ration pack includes necessary condiments, utensils, napkins as well as a flameless ration heater, so you can enjoy a healthy hot meal, anyplace under any kinds of conditions.
MREs may not always be available for sale to the public.
My Own Meal® Kosher Certification

My Own Meal® shelf stable meals and MREs are Certified Kosher and Glatt Kosher (meat). Grains follow the laws of Chodosh. They are produced under the strictest orthodox rabbinical supervision of the Organization of Orthodox Kashruth Supervision, established in 1957 by Rabbi Aaron Soloveichik, ztl, Founding Halachic Authority, and currently under the leadership and supervision of  Rabbi Moshe Soloveichik.